habib & the thief wins best film class 4 at pixel film festival
'Habib & the thief'  gets best short film class 4 at skånes pixel filmfestival. 
It was arranged by filmcentrum syd and Malmo queer film festival.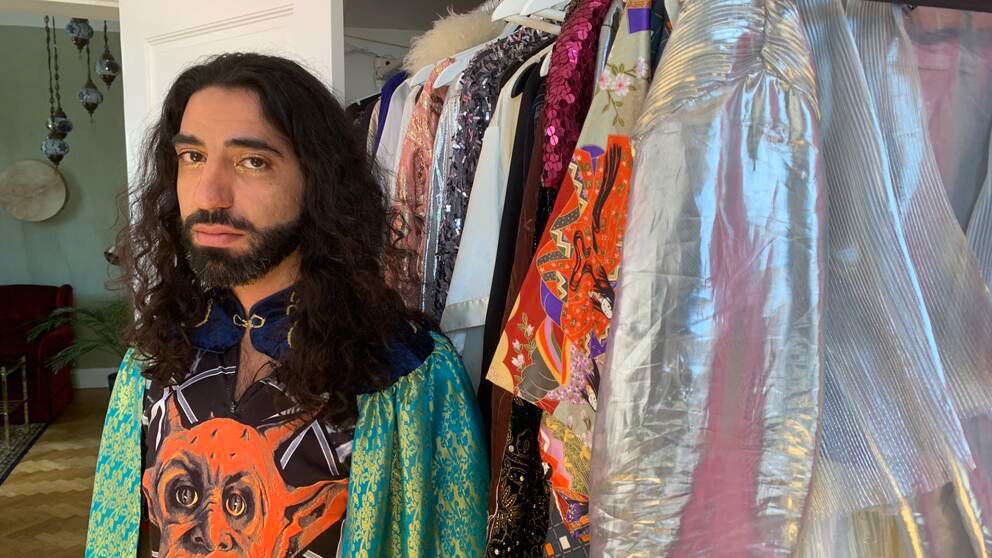 The uneven on SVT News
sVt news made an interview with naures sager about his upcoming short film 'Habib & The thief' and his recently released debut single 'mako mithli'.
Naures Sager event at world pride 2021
A magical event at World Pride Malmö  2021 at panora. We screened a work in progress  of our mini-documentary 'filming a gay love story In the Middle East', the short film '1-1', and a work in progress of 'Habib & the thief' .
It was arranged by filmcentrum syd and Malmo queer film festival. 
Habib & The Thief Festival Turné
Our short film Habib & the thief has been selected for Leeds film festival, stockholm film festival and New Orleans film festival. 
World Premiere for Habib & the thief at Uppsala short film festival
The poster for Habib & the thief is out and you can see more about the short on our page:
Naures debut single 'mako mithli' is released which also is the soundtrack for the new short film 'Habib & The Thief'.
ALL actors have been chosen
We have found all actors . See there Instagram below.
Skissernas Museum Podcast interview 
Brown Bag Lunches had a nice interview with Naures Sager. 
Interview with Naures sager in Nöjesguiden
 Thank you Kasia Syty for the lovely interview.
Our baby film '1-1' has had a marvellous year. It has traveled all over the world, including Hong Kong, USA, Greece, Serbia, Netherlands and the UK. We are delighted that so many people took it into their hearts. It's been nominated and won several awards. The latest award being the Jury's Choice Award for the Thomas Edison Black Maria Film Festival. The festival is celebrating 40 years and is a Canadian Screen Awards qualifying festival. Congrats to the cast and crew and everyone who believed in this film including film commissioner Ami Ekström at Svenska Filminstitutet and commissioning editor Hanna Sohlberg at Film i Skåne ❤️❤️❤️
SVT Play , Hong Kong, Texas and cape Cod!
Skånska dagbladet article 
tack gunilla wedding för en fin artikel. 
1-1 and Naures sager wins prize at pixel film festival 
1-1 won best film klass 4 at pixel skånes film festival and naures sager won pixel talent award 2020 which will consist of a production fund of 300 000 set to his coming short film "ana mithai" which is a way of saying "I'm gay" in arabic. 
World Premiere for 1-1 at sundsvall film festival Fest
make sure to get your ticket!
the uneven project "1-1 is selected as one the five short films to be produced for "it's love" which is a collaboration between the swedish film institute and all the regional film centers. 
"Ayman's sex date with Jonas gets interrupted by his friends which takes a positive turn". 
Our movie Habib & the thief receives a development fund prize at Malmö Arab film festival.  it's a huge honor for us to take home this prize and to get the support from an arabic film festival. Habib & the thief is a story about two arabic men who fall in love but  meet a treat from the Arab world. 
Thank you Alexander agrell for a great article in sydsvenskan!! 
We have been featured in the lovely bon magazine with an article about our work. check it out on the following link:
I am reva will be part of the Palm Springs international shortest this year. although it won't be in the festival line up, it will be shown at the film market. the festival will take place June 17-23, 2014. 
I AM REVA at Malmö Arab film festival 
The Uneven is proud to announce that I AM REVA is officially selected for the 5th Malmö Arab Film Festival. MAFF is the leading and largest film festival focusing on Arab Cinema in Europe. I AM REVA is selected for the Anti Racism Program. This is the description we received:

"Anti Racism is the overall theme for the whole Malmö Arab Film Festival 2015. The theme is presented by an official panorama. The films in this panorama represent different aspects of people from different backgrounds and cultures, with different premises and living conditions, and how they interact with their community and fellow human beings. A set portrait of how people in different situations related to being regarded as the 'others', or to interact with the 'others'."
I AM REVA will be screened on October 3, 2015, at 14.30, in Spegeln. 
 For more information visit maffswe.com. 
Palm Springs international shortest - film market
I am reva will be part of the Palm Springs international shortest this year. although it won't be in the festival line up, it will be shown at the film market. the festival will take place June 17-23, 2014. 
For more information visit: www.psfilmfest.org 
The outrage over the invitations 
Here are some of the articles that were written about the I am Reva invitations. it was widely discussed on tv, radio, and social media. it even reached Norwegian news. 
Tanker kring inbjudningarna 
Minst lika jobbigt är det att få ett utvisningsbeslut som det är att behöva vänta på det.

Ännu jobbigare är det att tvingas välja att bo kvar i ett land trots utvisningen dvs leva som "papperslös".

Det är inte i brevet i sig som obehaget ligger utan i allt runt omkring.

För att sätta frågor i rätt perspektiv krävs det att man lämnar sin egna kropp en liten stund. Man måste börja med att betrakta sig själv innan man kan betrakta andra. Utsatthet räknas i relation till omvärlden.

Mitt jobb som filmskapare är att väcka tankar och trigga igång känslor. Inne i biografen sker bara en liten del av arbetet. Utanför biografen pågår det verkliga livet.

Jag har bett tillräckligt mycket om ursäkt för min handling. Det är dags att gå vidare till de riktiga frågorna. Första steget är upplysning. 

/Naures Sager

Att vara papperslös ska inte förväxlas med att vara asylsökande. Att vara papperslös innebär att man har fått avslag på sin asylansökan men på grund av olika omständigheter har valt att gå under jorden och bo kvar i landet gömd. Det kan bero på att man har haft en orättvis asylprocess och inte kan återvända. Som papperslös saknar man vissa grundläggande mänskliga rättigheter och kan inte leva ett normalt liv. 

REVA-projektet är ett samarbete mellan Migrationsverket, Polisen och Kriminalvården som går ut på att få fler papperslösa att lämna landet.  Projekt Reva utvecklar personalens arbetsmetoder vad det gäller administration, dokumentation, flöde och uppföljning. Om en person inte frivilligt lämnar landet blir han/hon efterlyst och ärendet går över till polisen. 
109 well-known swedes have received deportation letters
Today 109 well-known Swedes have received deportation letters as an invitation to see the film I AM REVA. Among them are politicians, artists, comedians, journalists, etc. 

Our intention has not been to upset anyone. We chose these people because we wish for them to discuss the matter of Undocumented Immigrants. We wanted to make the list as versatile as possible. Many of them are chosen because we respect and admire their opinions. We trust that they will overlook the execution.

The reason why we chose to send out deportation letters is the gravity of the matter. This is a letter many people have to wait to read. By sending them out to Swedish citizens we wanted to raise a thought and we hope for more voices to be heard.

Our sincerest apologies go out to anyone who got offended by this action. 
Fredrik Reinfeldt - Jimmie Åkesson - Tobias Billström - Nyamko Sabuni - Gina Dirawi - Robin Carlsson - Roy Andersson - Regina Lund - Gabriela Pichler - Prins Carl Philip - Maria Holm - Jonas Åkerlund - Johan Renck - Noomi Rapace - Dror Feiler - Rossana Dinamarca - Bengt Berg - Sara Mohammad - Pernilla August - Martin Kinnunen - Lars Wilke - Arne Steen - Thomas Åvall - Nathalie Bödker-Lund - Kristin Lundell - Linus Bylund - Jan Björklund - Göran Hägglund - Miranda Sigander - Paulina Danielsson  -Kent Ekeroth - Jan Guilliou - Håkan Hellström - Laleh Pourkarim - Josef Fares - Makode Linde - Mikael Wiehe - Isabella Löwengrip - Christer Nilson - Carolina Gynning - Cissi Wallin - Tobias Regnell -Johan Wirfält -Jacqueline Kothbauer - Adrianna Pavlica - Suzanne Glansborg - Magnus Betner - Elisabeth Löfgren - Mona Sahlin - Hanne Mathisen - Anatilde de Paula - 
Åsa Linderborg - 
Clas de Faire - Lorine Talhaoui - Gudrun Schyman - Tomas Matsson - Tarik Saleh - Nabila Abdul Fattah - Henning Mankell - Björn Runge - Elin Maria Schwartz - Helena Krantz  - Mariana Otelea - Tomas Eskilsson - Erik Ullenhag - Jonatan Södergren - Maria Domellöf Wik - Fredrik Edin - Lukas Moodysson - Jonas Hassen Khemiri - Martina Montelius - Frida Boisen - Hans Wallenstam - Antonia Ax:son - Fredrik Wikingsson - Ulf Kristersson - Malou Von Sivers - Carina Berg - Andra Lasmanis - Janne Josefsson - Carolina Falkholt - Oskar Sonn Lindell - Martin Schibbye - Viggo Cavling - Navid Modiri - Nour El Refai - Beatrice Ask - Carl Bildt - Jason Diakité - Anna Odell - Ruben Östlund - Baker Karim -Suzanne Osten - Kenza Zouiten - Athena Farrokhzad - Nahid Persson - Alexander Bard - Ellinor Olovsdotter - Frej Larsson - Lykke Zachrisson - Örjan Ramberg - Johan Hilton - Jonas Sjöstedt - Gustav Fridolin - Ana Rab - Stefan Löfvén - Margret Atladottir - Jonas Gardell - Katrin ZytomierskA
We decided to invite some of the people we think should see our film I am reva at göteborg international film festival 2014.
I AM REVA will premiere at göteborg international film festival
I am reva will premiere at göteborg international film festival on January 26, 2014
here are the dates for the three screenings:
26 Jan, 12.30, Folkteatern